Pornstar Info
Videos with Angela White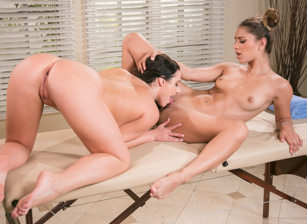 Date added:
2017-09-18
Rating:
Comments:
6
Description :
Teen Uma Jolie treats herself to a pampering birthday massage. Her gorgeous masseuse is Angela White and she's wearing a graphic t-shirt. It says 'Some chicks marry chicks, so get over it.' Knowing Angela is a lesbian makes Uma a tad uncomfortable, although she doesn't want to admit it. Angela finally convinces her to take off her clothes, and Uma bravely embarks on a new experience. Angela applies oil all over the teen's sexy body, then she focuses on relieving the tension in her tight muscles.

When Angela decides to have some fun with the birthday girl and blows softly on her dainty feet. The conservative teen becomes suspicious about Angela's intentions. Angela gets annoyed and invites her to leave, but Uma sorts out her misgivings. She flips onto her back and Angela massages her perky teen tits. She works her way down to her hip flexors and abductors and gets awfully close to Uma's vagina.

When Angela decides it's time to massage Uma's pussy, the client is no match for confident Angela. She breathlessly lets the lesbian finger her wet pink hole. And she quickly adapts to the circumstance when Angela starts to lick her out. Angela strips naked and scissor fucks the teen, then horny Uma tries her hand at pussy licking. The lesbians gorge themselves in 69 until Uma's eager tongue makes Angela cum. She's really getting the hang of being a lesbian!
Categories :
Oil
,
Kissing
,
Pussy Licking
,
Big Tits
,
FaceSitting
,
Brunette
,
Tattoo
,
Tribbing
,
Body Massage
,
69
,
Foot Massage
,
Lesbians
,
Natural Tits
,
Rimming
,
Teen
,
Massage
,
Ass
,
Foot Fetish
,
HD Porn
,
Shaved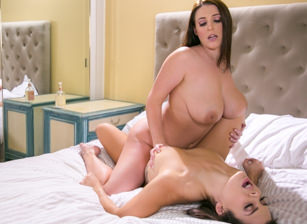 Date added:
2017-03-20
Rating:
Comments:
11
Description :
When Keisha Grey pulls a muscle in her groin, she calls physiotherapist Angela White desperate for help. The two arrange a home visit, but Angela forewarns her, this is going to be a vigorous and hands on massage.

After Angela arrives, they start the treatment on the teen's bed. Both hotties are clad in yoga pants and stretchy tops. Keisha groans as Angela bends her leg behind her head to loosen up the tight hamstring. Getting a feel for Keisha's tension spots, Angela instructs her to lie down on her tummy, then massages her glutes with her elbow. As she kneads around her lower torso, Angela can feel tons of tension in Keisha's thighs. She palpates the problem areas, applying pressure with all her weight.

Angela turns her client onto her back and scooches in between her legs to begin her specialty thigh on thigh technique. Scissored between Keisha's thighs with their crotches flush against each other, Angela uses all of her weight to rock slowly, applying gentle and even pressure to Keisha's tense muscles. Keisha inhales and exhales in time with Angela's back and forth movements. She's never had this kind of treatment before. As Angela adjusts her position, Keisha admits it feels good.

Keisha's breathing so deeply through the sensation, Angela asks if she's okay. The teen says she's fine. She's just not sure if what they're doing is physical therapy. But Angela swears by the success of this technique, promising Keisha a big release. After a bit more thrusting, Angela suggests applying some lotion to the inner thighs before they proceed to the more deepened portion of the massage. Keisha's reluctant because she's not wearing panties but Angela shirks it off, since they're both girls anyway.

Keisha takes off her stretch pants and shyly covers her naked pussy with her hands. Angela puts her at ease and they continue the thigh on thigh technique. Keisha groans as Angela rocks her body into position. The busty physiotherapist insists on removing her yoga pants, apologizing profusely for chafing poor little Keisha with the material.

With both women naked from the waist down, Angela stretches out Keisha's tension one leg at a time. But, her pussy pressing against Keisha's is building up another kind of release. Keisha stops her. She doesn't mean to be inappropriate, but their grinding is making her super horny. Sneaky Angela says that's just perfect, she's also a specialist in sexual release. Like putty in her hands, Angela grabs her meaty ass and tribs her pussy full throttle till she cums! Then, the lesbians really get down to business!
Categories :
Pussy Licking
,
Big Tits
,
Brunette
,
Tribbing
,
Body Massage
,
Hardcore
,
Lesbians
,
Fingering
,
Natural Tits
,
Rimming
,
Massage
,
Cunilingus
,
HD Porn

Pictures with Angela White

Date added:
2017-09-18
Rating:
Comments:
0

Date added:
2017-03-20
Rating:
Comments:
1