Pornstar Info
Videos with Uma Jolie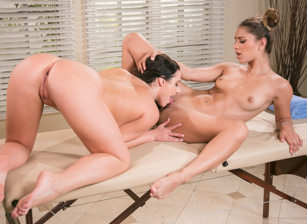 Date added:
2017-09-18
Rating:
Comments:
4
Description :
Teen Uma Jolie treats herself to a pampering birthday massage. Her gorgeous masseuse is Angela White and she's wearing a graphic t-shirt. It says 'Some chicks marry chicks, so get over it.' Knowing Angela is a lesbian makes Uma a tad uncomfortable, although she doesn't want to admit it. Angela finally convinces her to take off her clothes, and Uma bravely embarks on a new experience. Angela applies oil all over the teen's sexy body, then she focuses on relieving the tension in her tight muscles.

When Angela decides to have some fun with the birthday girl and blows softly on her dainty feet. The conservative teen becomes suspicious about Angela's intentions. Angela gets annoyed and invites her to leave, but Uma sorts out her misgivings. She flips onto her back and Angela massages her perky teen tits. She works her way down to her hip flexors and abductors and gets awfully close to Uma's vagina.

When Angela decides it's time to massage Uma's pussy, the client is no match for confident Angela. She breathlessly lets the lesbian finger her wet pink hole. And she quickly adapts to the circumstance when Angela starts to lick her out. Angela strips naked and scissor fucks the teen, then horny Uma tries her hand at pussy licking. The lesbians gorge themselves in 69 until Uma's eager tongue makes Angela cum. She's really getting the hang of being a lesbian!
Categories :
Oil
,
Kissing
,
Pussy Licking
,
Big Tits
,
FaceSitting
,
Brunette
,
Tattoo
,
Tribbing
,
Body Massage
,
69
,
Foot Massage
,
Lesbians
,
Natural Tits
,
Rimming
,
Teen
,
Massage
,
Ass
,
Foot Fetish
,
HD Porn
,
Shaved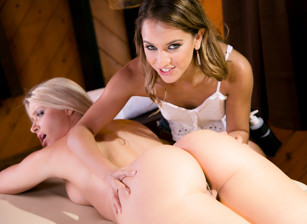 Date added:
2016-12-26
Rating:
Comments:
8
Description :
When Anikka Albrite arrives for her massage appointment, her longtime masseuse gets called away to deal with a family emergency, leaving the masseuse' teen daughter Uma Jolie to take over. Anikka is surprised that Uma's old enough to be an experienced masseuse, but Uma assures her that her mother taught her well. She applies oil to Anikka's shoulders, massaging the pressure points in her upper back, stroking downward along her trim torso. Anikka is impressed that Uma is doing such a good job with her hands. When she works her way down to Anikka's full round ass, she makes sure it's well oiled. She takes away the towel covering the lower part of her rump, and Anikka finds that strange, since Uma's mother never does that. Uma explains that she likes to focus a lot of attention on the glutes. Uma tells Anikka to turn on to her back. She climbs onto the massage table and fondles her exposed boobs. Anikka chastises her that touching her like that is wrong and inappropriate. She reminds Uma how long she's known her, she's practically her mother. But Uma is horny for her billowy titties, and she gets naked too. Anikka has a hard time denying the obscenely sexy teen slinking between her legs, begging to taste her pussy. Uma promises Anikka her mom won't find out. Anikka really can't help herself anyway, not once the lesbian teen's tongue makes contact with her clit. After tribbing their horny pussies together, Anikka laps at Uma's wet pussy, rubbing her juices all over her face while cumming hard in her mouth!
Categories :
Oil
,
Kissing
,
Pussy Licking
,
Close Up
,
FaceSitting
,
Blonde
,
Brunette
,
Ass Rubbing
,
Tribbing
,
69
,
Foot Massage
,
Lesbians
,
Natural Tits
,
Teen
,
Massage
,
Ass Massage
,
Bubble Butt
,
HD Porn
,
Member Fantasy
,
Petite
,
Pornstar
,
Shaved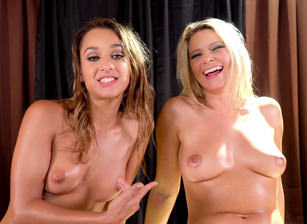 Date added:
2016-12-26
Rating:
Comments:
0

Pictures with Uma Jolie

Date added:
2017-09-18
Rating:
Comments:
0

Date added:
2016-12-26
Rating:
Comments:
0