Pornstar Info
Videos with Zoey Taylor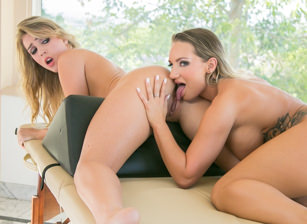 Date added:
2017-09-04
Rating:
Comments:
3
Description :
Gorgeous and outgoing client Cali Carter walks into the spa and meets her masseuse Zoey Taylor. She's not shy to show off her muscular body in preparation for her bolster massage. She's not deterred when she hears that it will be Zoey's first time using the bolster. The shy masseuse applies oil to Cali's firm and toned ass cheeks, trying not soak her red panties in oil. Cali requests lots of attention to her inner thighs which are sore from lifting weights and squatting.

Maybe Zoey isn't touching her intimately enough, but Cali suggestively mentions the rave reviews she's read. She is sure that Zoey's boss wants every customer to receive comparable treatment. She elaborates that she wants her to rub her ass in a certain way. Zoey doesn't want trouble and tries to oblige her client. Cali really likes it, almost enough to cum, Zoey just needs to do it a little harder and faster, then the itch with go away.

Cali loses patience because Zoey is a goodie two shoes. Cali takes control and tells Zoey what she wants her to do. She gets her undressed and pulls her up onto the bolster, then she goes down on the bewildered masseuse. Zoey lets Cali make her cum before she gets back to servicing Cali. This time, Zoey does an outstanding job fingering and licking Cali's toned pussy till she cums all over the bolster!
Categories :
Oil
,
Kissing
,
Pussy Licking
,
Big Tits
,
Blonde
,
Tattoo
,
Body Massage
,
Lesbians
,
Fingering
,
Natural Tits
,
Rimming
,
Massage
,
Shaved
Date added:
2016-05-17
Rating:
Comments:
0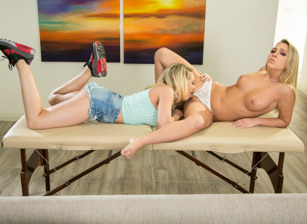 Date added:
2016-05-16
Rating:
Comments:
4
Description :
Zoey Taylor is nervous about reuniting with her lesbian sister in law Kagney Linn Karter because at Zoey's wedding, Kagney was adamant about her sexual attraction towards her. When Zoey and her husband arrive at Kagney's home, the lesbian sister begins flirting with her insistently. Kagney comes up with a great idea to massage her sister's tense body. Zoey isn't sure about it but her husband doesn't seem to mind. Zoey strips down naked on the table while Kagney massages her supple butt. When Kagney asks her to flip over, Zoey becomes tense, from her sister in law rubbing oil all over her nubile boobs and her sweet lesbian virgin pussy. As soon as Zoey's husband leaves the house, Kagney takes this opportunity to seduce Zoey into a sex-capade of lesbian fornication. Kagney spreads Zoey's pussy lips and suckles on her sweet clitoris making her moan with deep pleasure. Zoey's shy about her hidden lesbian desires but goes full speed on devouring Kagney's shaved, sweet pussy and vigorous tribbing action, the moment her hubby takes a hike!
Categories :
Oil
,
Pussy Licking
,
Big Tits
,
FaceSitting
,
Blonde
,
Tribbing
,
Lesbians
,
Natural Tits
,
Massage
,
Ass
,
Hairy
,
HD Porn
,
Pornstar
,
Sister In Law
,
Family Roleplay

Pictures with Zoey Taylor