Pornstar Info
Videos with Brandi Love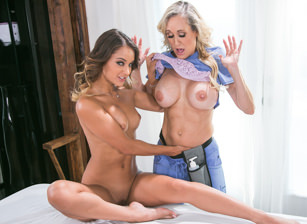 Date added:
2017-10-30
Rating:
Comments:
1
Description :
Uma Jolie is so excited for her date with with an older grad student but is so nervous she won't know how to satisfy another lesbian. Uma calls the spa and makes an appointment where her step-mother Brandi Love works so she can not only get a relaxing massage, but hopes her mom can show her a thing or two in lesbian fornication.

Brandi is taken back when she sees her daughter at her work of place, especially when Uma insists that Brandi teach her how to go down on a woman. Uma lays on the table and persuades Brandi into helping her out sexually. Brandi stands firm she will do nothing of the sort, but can't resist her daughter's sleek, firm boobs and shaved pussy.

Brandi begins fondling her daughter's shaved pussy and messages her outer lips gently, then Brandi removes her bra, displaying her massive boobs and starts licking Uma's chest. Uma spreads her mothers legs and begins licking her soft pussy lips. They change positions where Brandi goes down on Uma, showing her exactly how to eat a pussy perfectly. They then 69, the lesbian lovers eating each other out and fingering their tight pussies , and end with a tribbing lesson that Uma greatly appreciates!
Categories :
Oil
,
Pussy Licking
,
Big Tits
,
Blonde
,
Brunette
,
Tattoo
,
Tribbing
,
Body Massage
,
69
,
Lesbians
,
Fingering
,
Natural Tits
,
Rimming
,
Massage
,
Cunilingus
,
HD Porn
,
Stepmom
,
Family Roleplay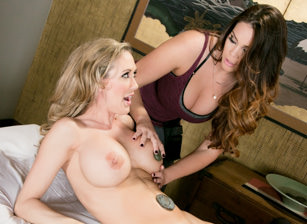 Date added:
2014-08-04
Rating:
Comments:
12
Description :
Brandi Love has been stressed out, and her friend Sara Luvv suggested she come to see Alison for a massage. Since the last time we saw Alison, she has taken some steps to set up her own studio where she can help her clients relax fully through some unconventional techniques. Brandi has come to the right place because this treatment proves to be exactly what this ex-wife needed. Alison takes her time explaining that the pelvic region carries a lot of tension, and that it is her aim to release that intense pressure, in order to help Brandi relax entirely. By the end of the massage, both ladies are entirely satisfied having tasted each other's sweet wet pussies.
Categories :
Oil
,
Kissing
,
Pussy Licking
,
Big Tits
,
Close Up
,
Blonde
,
Brunette
,
Tattoo
,
MILF
,
Body Massage
,
69
,
Foot Massage
,
Lesbians
,
Fingering
,
Massage
,
HD Porn
,
Member Fantasy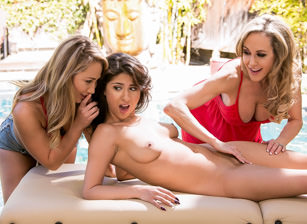 Date added:
2014-05-12
Rating:
Comments:
18
Description :
Evi Fox is excited to be at her best friend's house, and Carter Cruise is very excited to have her. Evi is curious about how Carter's been all this time. She tells Evi that she has been taking lessons with her mom to learn how to give a relaxing massage. It's been a great bonding experience for them, and that it's been an important experience to practice on ladies outside of class. Carter shows Evi to the massage table outside, where we see Carter catch up on some techniques she missed in this week's class. Soon Evi melts into a relaxed state of bliss, while Brandi Love expertly massages deep into Evi's tense back muscles. Carter is a quick learner, and before long the massage becomes more and more intimate. Brandi removes the towel from Evi's rear and the massage begins to heat up as we see Brandi oil up Evi's crevices relaxing her even more. When Evi turns over we see her beautiful breasts massaged. Brandi can hardly contain herself, and soon Evi sees the real reason for her mother and daughter massage. Brandi and Carter planned this whole time to seduce her, but then again, they did promise a full release treatment, and that's just what Evi gets!
Categories :
Kissing
,
Pussy Licking
,
Big Tits
,
FaceSitting
,
Blonde
,
Brunette
,
MILF
,
Body Massage
,
69
,
Threesome
,
Lesbians
,
Fingering
,
Natural Tits
,
Rimming
,
Massage
,
Ass Massage
,
Hairy
,
HD Porn
,
Member Fantasy
,
Outdoor

Pictures with Brandi Love