Pornstar Info
Videos with Maddy O'Reilly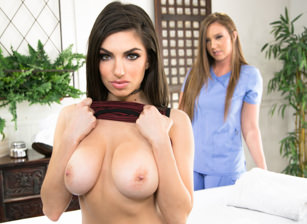 Date added:
2017-08-28
Rating:
Comments:
2
Description :
Waitress Darcie Dolce is sick of her boss haranguing her. She quits her job on the spot and drops in at the all-girl spa for a massage. Masseuse Maddy O'Reilly gives her a last-minute appointment. The second she sees the bodacious brunette she wants to release all her tension.

Maddy escorts Darcie to the massage room. When Darcie gets undressed she is reticent to take off her pantie but Maddy makes her feel comfortable enough to receive her massage in the nude. Darcie lies down on her tummy and Maddy rubs her back and shoulders. Thanks to Maddy's pampering touch, Darcie begins to feel better about walking away from her job.

Darcie turns over and Maddy massages her heavy breasts. Darcie is so relaxed by the time Maddy reaches her legs and thighs, she doesn't realize that Maddy has leaned in close to her clit. She isn't lubing her with oil anymore. Now she's using her spit.

Darcie feels a strange wetness on her pussy and questions the masseuse about what kind of spa this is. Maddy looks her in the eye and demonstrates with her frisky lesbian tongue. Once Darcie blows off steam she reciprocates on Maddy's tasty pussy. They finish off their sexy massage with a languid session of tribbing!
Categories :
Oil
,
Kissing
,
Pussy Licking
,
Big Tits
,
Blonde
,
Brunette
,
Ass Rubbing
,
Tattoo
,
Tribbing
,
Body Massage
,
Foot Massage
,
Lesbians
,
Fingering
,
Natural Tits
,
Rimming
,
Massage
,
Ass Massage
,
Ass
,
Cunilingus
,
HD Porn
,
Member Fantasy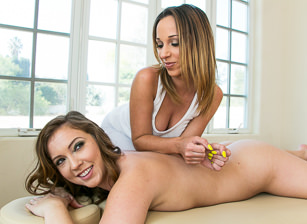 Date added:
2014-06-09
Rating:
Comments:
9
Description :
It's Jada Stevens' first day on the set at All Girl Massage, and she's excited to work with Maddy O'Reilly for the first time. Whenever our models come in for the first time, we give them plenty of time to warm up, but today things went a little different. A warm-up isn't what Jada needs though, and before you know it what they really need is a cool down. Today we asked Jada to give a Lomi Lomi massage to Maddy. Maddy is surprised at how amazing Jada's technique feels, and knowing how excited they are to work with one another, the heat rises, and our models get a little carried away! We were so glad that we captured their rehearsal, because it ended up to be the hotter more natural version of the scene we shot after this! Watch them writhe against one another passionately, and eat each other's wet pussies like their apple a day!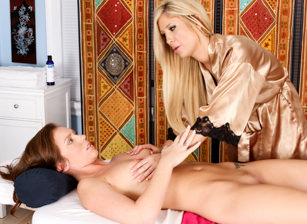 Date added:
2013-08-12
Rating:
Comments:
3
Description :
Poor Maddy OReilly is aching from her Pilates class, so she did what any rich brunette would do, she went for a full body massage! Maddy is lucky enough to get Tasha Reign as her masseuse, who happens to be very well versed in taking special care of her lady clients. Tasha is instantly attracted to Maddy and you just know she has some naughty plans in store for her once she gets relaxed and naked. Tasha plays her game slow, massaging Maddy's erogenous areas to get her turned on. See her work her ass while getting super close to Maddy's sweet pussy. Tasha gives Maddy's ass a playful slap and it's game on for the seduction. Before long Tasha goes for it by licking Maddy's clit and telling her to relax and enjoy it. Maddy immediately starts breathing deeper as she lets Tasha work her magic on her shaved bare twat. Tasha is slow and gentle, allowing Maddy to work her way up to a huge orgasm before she asks Maddy to return the favor. This is one hot lesbian massage scene that is not to be missed.

Pictures with Maddy O'Reilly

Date added:
2017-08-28
Rating:
Comments:
0

Date added:
2014-06-09
Rating:
Comments:
0

Date added:
2014-06-09
Rating:
Comments:
0