Pornstar Info
Videos with Jessa Rhodes
Date added:
2017-10-02
Rating:
Comments:
7
Description :
In hopes of relieving her shoulder pain, beautiful California girl Jessa Rhodes comes to the spa to get a massage. Asian vixen masseuse Ayumi Anime gets her client undressed and onto the table. She applies oil and begins to rub her shoulders. Before long, Jesse is confiding in Ayumi that she's married but not necessary happy with her husband. Ayumi suggests that she committed too soon in life. Without the right experience, she is missing out on a lot. Curious if Jessa has found her g-spot, she steers the conversation toward the topic of experimentation, particularly with other girls. When Ayumi hovers around Jessa's butt, the client kindly asks her to massage a bit lower, but Ayumi has something else in mind.

Ayumi gives Jessa a pampering foot rub after paying close attention to her perfect long legs. She gets Jessa to turn over for a breast massage. Jessa has trouble concentrating as she plays with her nipples and compliments her fine form. Ayumi parts her client's legs to work on her upper thighs. She removes the towel covering her crotch and tells her to close her eyes. Then she runs her hands along her hips grazing the edge of her pussy. Jessa falls into a sort of trance.

Ayumi points out that women are lucky because they can cum two or three times in a row. She offers to show her where her g-spot is located. Jessa doesn't resist anymore. Ayumi slowly plugs her hole with one finger. Then she brings her tongue to her clit until Jessa quivers in her mouth. She doesn't stop at just one orgasm either. She turns her over and finger fucks the cum from her once more. Jessa is eager to experiment on Ayumi and licks her pussy till she cums. The lesbians 69 on the table then trib each other's pussies till they cum yet again!
Categories :
Oil
,
Kissing
,
Pussy Licking
,
Big Tits
,
Blonde
,
Brunette
,
Asian
,
Tattoo
,
Tribbing
,
69
,
Foot Massage
,
Fingering
,
Natural Tits
,
Massage
,
Cunilingus
,
HD Porn
,
Lingerie
,
Shaved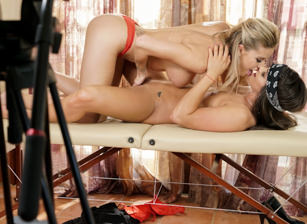 Date added:
2016-09-27
Rating:
Comments:
1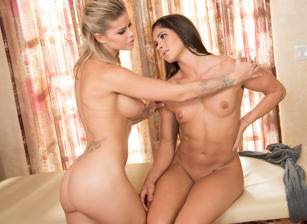 Date added:
2016-09-26
Rating:
Comments:
4
Description :
Jessa Rhodes gets down to business and takes her special oil designed to relax the body and stimulates her client Aspen Rae with her sensation therapy beginning with her back, arms and legs then her most sensitive spots and her shaved pussy. Jessa twists her fingers deep inside of Aspen's tight pussy as she begs for more of Jessa's euphoric lesbian bliss. Jessa squats on Aspen's face feeling her warm lesbian tongue touch the tip of her luscious clit and lips. Then they begin tribbing in a heated passion of lesbian ecstasy. To finish off Aspen's sensation therapy, she treats herself to Jessa's wet pussy tasting the overflowing juices of her lesbian lover's climax!
Categories :
Oil
,
Pussy Licking
,
Blonde
,
Brunette
,
Tattoo
,
Tribbing
,
Lesbians
,
Fingering
,
Natural Tits
,
Rimming
,
Massage
,
College
,
Cunilingus
,
Shaved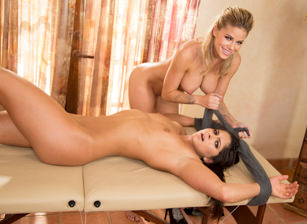 Date added:
2016-09-05
Rating:
Comments:
9
Description :
Aspen Rae storms into the All Girl Massage in the most dire of situations... She can't feel her back and needs someone to help her right away. Jessa Rhodes hears her distress from up front and offers her services immediately with a new treatment called, sensation therapy. Jessa asks Aspen to fully undress and begins rubbing her sore back and tight butt and all the while, Aspen has a blindfold to heighten her senses. Even though her soreness is on her back, Jessa insists that she massage every single part of her body with a feather tickler touching her inch by inch. The massage also includes Jessa's mouth on her shaved pussy. Jessa stimulates her client's hole with her tongue and fingers, making Aspen scream in euphoria. Jessa squats on top of Aspen as she indulges in lesbian bliss and orgasmic heaven. But Aspen's back is still sore even after such a magnificent sex-capade, Jessa gives it another shot to fulfill her customers needs!

To be continued...
Categories :
Pussy Licking
,
Big Tits
,
FaceSitting
,
Blonde
,
Brunette
,
Tattoo
,
69
,
Lesbians
,
Fingering
,
Natural Tits
,
Massage
,
Ass
,
College
,
Cunilingus
,
HD Porn
,
Shaved
Date added:
2013-07-29
Rating:
Comments:
2
Description :
Lola Foxx is stressed. She's jumpy and uptight lately, so her friend suggests she go for a massage. Karlie Montana is the sexy redhead masseuse that will be taking care of Lola today. Part of the issue with Lola is that she's super shy about showing off her gorgeous body. She needs to relax, be touched and let her sexual energy flow. Karlie is just the woman to make that happen for the uber tense Lola. Watch as Karlie lightly rubs her oiled hands all over Lola's inner thighs, teasing her pussy. Lola finally starts to breathe deeply and relax and you can see she is beginning to let go of her inhibitions. But Karlie knows Lola needs more than just a light rub. Watch her strip out of her robe and panties as Lola is face down on the massage table. Karlie lubes up her breasts, climbing on the table to rub her body all over the now relaxed Lola. Karlie gives an intimate massage to Lola's ass with her breasts and hands before instructing her to arch up so that she can lick and taste her now wet pussy. Lola immediately begins to moan as she lets her tension go as she inches closer and closer to an orgasm.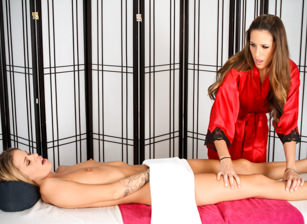 Date added:
2013-07-22
Rating:
Comments:
2
Description :
Jessa Rodes is feeling horny today, so she sets out to do what any horny hottie would do. She calls up the internet to look at some porn when her boyfriend busts in. But he is full of good advice when he suggests she go in for a massage! Jessa knows she wants to feel a females touch so she orders up Kortney Kane to work her sore muscles. But what Jessa really wants is to feel Kortney's mouth on her wet and wanting pussy, of which you get great views as Jessa spreads her legs so Kortney can get in there good. She arches her back and pushes her ass hard against Kortney's strong hands and you can tell she just wants it so bad. Jessa has a beautiful, perfect ass and it would be hard for anyone to resist it. Jessa can't take it anymore when she flips over so she starts to masturbate. This is when Kortney takes full control of this situation, kissing Jessa deep and rubbing her clit, assuring her that she is about to get the happy ending that she so desperately wants. These two are hot together as they greedily eat and play with each others pussies until they cum.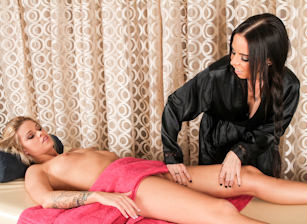 Date added:
2013-03-04
Rating:
Comments:
1
Description :
Brandy Aniston and Jessa Rhodes run into each other after a show in Vegas and decide to get together one more time before Jessa leaves. Brandy offers to massage her and make her feel nice before her departure and man oh man does she! Massage therapy is Brandy's passion and her soft, nimble hands get right to work on Jessa. The ladies make small chat as they relax with each other. You will get a nice view of Jessa's sweet pussy as Brandy massages her inner thigh, teasing her ass and pussy lips but never touching them, even though you can see in her face how badly she wants to. Brandy waits until Jessa flips over to make her first sexual move by lightly massaging Jessa's breasts and making her nipples hard. You are going to want to see these hotties get naked together so badly! Brandy is a pro and she knows just how to get a woman hot, wet and wanting. Jessa has never been with a woman before but Brandy's wet mouth on her pussy quickly convinces her that she should give hot lesbian sex a try.
Categories :
Oil
,
Kissing
,
Pussy Licking
,
Big Tits
,
Blonde
,
Brunette
,
Skinny
,
Tattoo
,
Toys
,
Body Massage
,
69
,
Lesbians
,
Natural Tits
,
Teen
,
Massage

Pictures with Jessa Rhodes