Pornstar Info
Videos with Jayden Cole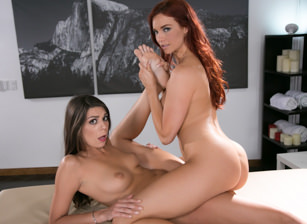 Date added:
2017-07-10
Rating:
Comments:
3
Description :
Client Olivia Lua is taking a reflexology class taught by masseuse Jayden Cole. When she comes to the spa for her private lesson, redhead Jayden begins by massaging the reflexology points on her foot connected to the lungs, heart and throat. She takes the other foot and palpates the spots that correspond to the stomach, eyes, lower intestines, and finally, to her pussy. Olivia really feels that.

Jayden's course curriculum covers more than reflexology of the feet. She asks her student to remove her shirt and bra. She kisses her topless student, but Jayden doesn't think she should be shirking her studies. Olivia promises she won't fail. She has plenty to teach her today. She resumes the lesson with a foot massage and concentrates on stimulating her vagina.

It's working because Olivia starts to moan with pleasure. And she doesn't object when Jayden goes topless, then pulls off her shorts and tastes her pussy. Jayden licks her stimulated clit and sucks the cum right out of her. She swivels around to eat her pussy while seated on Olivia's face. After cumming intensely in Olivia's warm mouth, Jayden hoists her student on top of her tight body. They lick each other's pussies till they cum simultaneously in 69!
Categories :
Kissing
,
Pussy Licking
,
FaceSitting
,
Brunette
,
69
,
Hardcore
,
Foot Massage
,
Lesbians
,
Massage
,
HD Porn
,
Redhead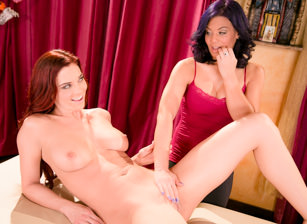 Date added:
2017-02-20
Rating:
Comments:
7
Description :
Repeat client Jayden Cole's regular masseuse isn't available, but Ryder Skye will take her. Redhead Jayden has no qualms about stripping naked in front of the purple haired masseuse. She hops on the table and reacts with surprise when Ryder says it's her first day on the job. She's also surprised that her regular masseuse didn't brief Ryder on the kind of massage she likes. Jayden directs the new masseuse to work on her lower back and ass. Ryder finds it suspicious that she's focused exclusively on that part of her body. She's doing her best to knead the muscles in Jayden's ass to her satisfaction, but the finicky client keeps prompting her to touch closer and closer to her vagina. Ryder cools it by rubbing her feet instead. Jayden points out this isn't just a massage spa, it's Roger's place. There's more to it than massaging. Jayden starts to show her the ropes by turning onto her back and placing Ryder's hands on her boobs. Ryder pulls away and massages her hand instead. Jayden thinks Ryder would be more comfortable if she gets naked too. Ryder tries to object. She's a trained masseuse. Well, Jayden's going to teach her something too, to help Ryder realize how lucky she is to work for Roger. The repeat client peels off every item of Ryder's clothing and plants her mouth on Ryder's tattooed pussy. Ryder finally begins to relax in an excited sort of way. She lets lesbian Jayden slowly lick her pussy and softly kiss her clit until she cums. Jayden sits on top of Ryder's lap and starts tribbing her lesbian pussy rhythmically. Then Jayden wants Ryder to reciprocate the cunnilingus, but Ryder balks at the lesbian's request. Jayden insists and straddles her face feeding her pussy to the masseuse. Worked up from all that grinding Jayden releases into her mouth. Will Jayden become Ryder's repeat client too? Click to find out!
Categories :
Oil
,
Pussy Licking
,
Big Tits
,
Close Up
,
FaceSitting
,
Brunette
,
Tattoo
,
Tribbing
,
Foot Massage
,
Lesbians
,
Natural Tits
,
Massage
,
Colored Hair
,
Cunilingus
,
HD Porn
,
Redhead
,
Shaved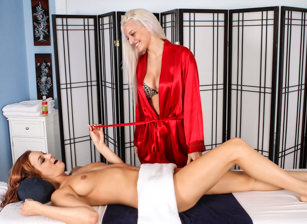 Date added:
2012-12-03
Rating:
Comments:
0
Description :
Jayden Cole has been tense and unsatisfied by other massage parlors she has recently tried. According to Ms. Cole the therapists keep doing all the same things and they aren't really reaching those hard to satisfy places a girl needs to relieve all her anxieties. Thankfully Macy Cartel has just gotten a new device in the mail from her massage gear supplier that is perfect for taking care of exactly the kind of internal consternation that Jayden has been experiencing as of late. The electrical stimulation along her thighs, and gentle repetitive buzzing noise is enough to change her mood completely, but as you might expect it's actually the soft wet tongue and expertise of Macy Cartel that really gives Jayden Cole the thorough pleasure she needs to feel refreshed, renewed and ready to take the world by storm once again. In fact, Jayden is so happy that she puts her masseuse on the table and returns the favor as Quite The Tip to say thanks!
Categories :
Kissing
,
Pussy Licking
,
Close Up
,
Blonde
,
Skinny
,
Toys
,
Tribbing
,
Body Massage
,
Hardcore
,
Lesbians
,
Natural Tits

Pictures with Jayden Cole