Pornstar Info
Videos with Cherie DeVille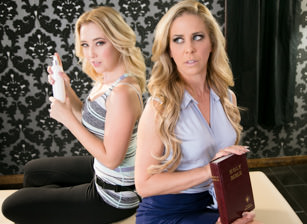 Date added:
2017-03-27
Rating:
Comments:
4
Description :
Step daughter masseuse Samantha Rone is sitting on her bed beside her Holy Bible. She's using an an electric massager on her leg, when step mother Cherie Deville walks in. The devout Christian matriarch tosses the device aside with distaste and proceeds to lecture the teen on Christian propriety. Cherie has raised the girl from infancy and tries hard to keep her on the straight and narrow. And now she fears Samantha is veering from the righteous path with her chosen career. She warns Samantha that a male client wants something more from her, something unbecoming of a ladylike Christian. Samantha reassures her mother she's not interested in men. Samantha's focused on school for now. Still, Cherie will not hear it. She bans her from performing the devil's work and leaves her room in a huff. But all this drama makes Cherie curious enough to book her first massage. At the spa, Cherie gets undressed and calls out to the masseuse that she's ready. With her head facing down in the headrest, she doesn't see that her masseuse is her step daughter Samantha. Samantha asks Cherie if she wouldn't be more comfortable removing her bra and underwear, but Cherie feels she isn't being modest enough. She confides in the masseuse that her daughter is also a massage therapist, but she struggles with giving her approval. The concerned step mother wants to know if a lot of guys hit on her during work. Samantha reassures her, she mostly works on women. She admits her mom doesn't exactly approve of her career path either. She does encounter a lot of skin, but she's desensitized by now. While Samantha is working the muscles in her back, she asks if Cherie works out, since her body is so fit. She finds a knot in her glutes and Cherie lets her palpate it for a few moments. Cherie begins to feel more comfortable letting the masseuse unhook her brea and slip off her panties, especially if it's the norm. Samantha gets on the table and massages her back and bubble butt. But then, she daringly sticks her hand between mother's legs and massages her pussy! Cherie lets out a moan and reaches her hand back to cup the masseuses breast, enjoying the hand job. She turns around and sees it's Samantha clamoring on top of her! Samantha knows exactly what she's doing, and she won't let her mother get up. She plants her mouth on Cherie's vagina and sucks. Torn between guilt and euphoria, Cherie tries to stop herself but Samantha makes her cum. The teen strips off her clothes in a hurry and the lesbians embrace. Cherie tastes herself on Samantha's mouth. Samantha straddles her pussy over the MILF's face and Cherie licks her clit till she convulses. Samantha collapses onto her mother's pussy and the lesbians eat eachother in 69. The teen's pussy squirts all over Cherie's face, drowning her in cum. She gives Samantha's ass a rimming as jets of squirt escape her pussy. The lesbians clutch each other chaotically, tribbing as they cum. Cherie is sopping wet with Samantha's juices when the teen asks to ride her face. Cherie tells her to squirt in her mouth and Samantha obliges. Cherie dives between Samantha's legs and commands her to baptize her with squirt, finally condoning her work. Enjoy!
Categories :
Oil
,
Kissing
,
Pussy Licking
,
Big Tits
,
FaceSitting
,
Blonde
,
Tribbing
,
MILF
,
69
,
Lesbians
,
Fingering
,
Natural Tits
,
Massage
,
Ass Massage
,
HD Porn
,
Member Fantasy
,
Shaved
,
Squirting
,
Stepmom
,
Family Roleplay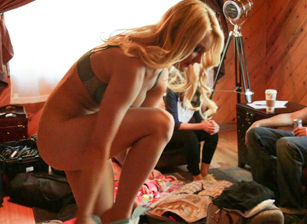 Date added:
2015-11-10
Rating:
Comments:
0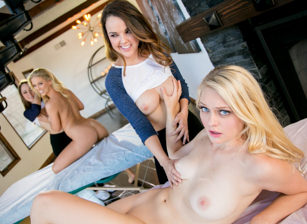 Date added:
2015-11-09
Rating:
Comments:
6
Description :
With her sexual curiosities reaching another level, Alli Rae hides in the bathroom, eager to fulfill her sexual desires and masturbate to appease her libido. Alli doesn't realize that she forgot to lock the bathroom door, surprising her step mom Cherie Deville when she comes in unaware of her step-daughter's pleasure session. Cherie didn't seem to mind, in fact, she is proud that her daughter is learning how to satiate her sexual needs, but Alli isn't ready to share her personal private feelings with Cherie. Cherie knows exactly what her daughter needs to open up and learn the true meaning of deep sexual exploration; The Sapphic Bliss Spa. Having been recommended highly through Cherie's friend Tanya, Cherie makes an appointment for a Mother-Daughter Spa Day with true lesbian experts Remy Lacroix and Dillion Harper.

Watch these three beautiful lesbian seductresses tame Alli's hunger for pussy, pulling her deep into a world of fantastic lesbian celebration devoted to her (and you) personal sexual enjoyment!
Categories :
Kissing
,
Pussy Licking
,
Big Tits
,
FaceSitting
,
Blonde
,
Tattoo
,
Tribbing
,
MILF
,
Jacuzzi
,
Lesbians
,
Masturbation
,
Fingering
,
Natural Tits
,
Rimming
,
Massage
,
Cunilingus
,
Group Sex
,
HD Porn
,
Shaved
,
Stepmom
,
Family Roleplay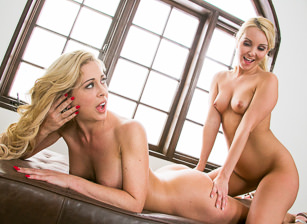 Date added:
2014-12-01
Rating:
Comments:
10
Description :
Aaliyah Love's dad recently married a new woman, Cherie Deville. As old as she is her dad is still the old protective stiff he's always been. He hopes that her new step-mom will be welcomed graciously by his daughter, and that they can get along like friends, but Aaliyah has other plans. Aaliyah's plan starts with a massage, but it goes much further. Soon, she has Cherie slipping out of her cute dress, and before long she has a firm grip on Cherie's round ass. Aaliyah purposefully gets an oil stain on her shirt so she can take it off, in order to slide her naked body against her new mommy's oily back. Cherie clearly enjoys the rubbing Aaliyah gives her pussy, but makes sure to point out that it's inappropriate to get fresh! Of course that's exactly what Aaliyah does! Aaliyah uses her fingers and tongue to coax an orgasm from deep within Cherie, just in time for her dad to walk in and catch them naked!
Categories :
Pussy Licking
,
Big Tits
,
Blonde
,
MILF
,
Lesbians
,
Fingering
,
Massage
,
Ass Massage
,
Member Fantasy
,
Stepmom
,
Family Roleplay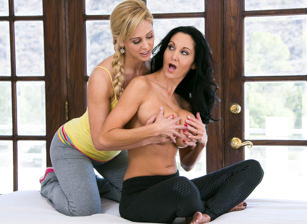 Date added:
2014-05-19
Rating:
Comments:
11
Description :
Ava Addams is at the spa for a relaxing scalp massage and facial. Cherie begins with the facial, using her gentle touch to massage the tiny muscles in Ava's face. After some time to relax, Cherie returns to give Ava her scalp massage. As Ava becomes more and more relaxed the feeling of Cherie's fingers running though her hair and the expert techniques using the pressure points on her head helps Ava to feel a state of peace and tranquility. Once the facial mask is taken off, Cherie has Ava sit up to get her shoulders. Soon Cherie has talked Ava into slipping out of her top, revealing her huge breasts and her soft skin. Cherie has the perfect seduction techniques to get Ava to go further, and soon we see Cherie sucking Ava's giant tits using her warm mouth. Stick around to see what other tricks Cherie has up her sleeves. In the end, Ava is so impressed she practically calls her friends immediately to recommend Cherie's services!
Categories :
Oil
,
Pussy Licking
,
Big Tits
,
Blonde
,
Brunette
,
Tribbing
,
Body Massage
,
69
,
Lesbians
,
Fingering
,
Member Fantasy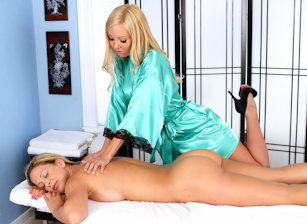 Date added:
2012-05-14
Rating:
Comments:
6
Description :
Aaliyah Love has no idea what type of a massage Cherie Deville was looking for. Cherie is a regular at the massage parlor and was expecting her usual full body stress release. Cherie is a woman who knows what she wants, and she doesn't like that Aaliyah isn't knowledgable about her desires. Aaliyah felt really uncomfortable when Cherie begged her to give her a sensual breast and pussy massage but she had to do what she was told. They both enjoyed the pussy licking and had orgasms in each others mouths.

Pictures with Cherie DeVille